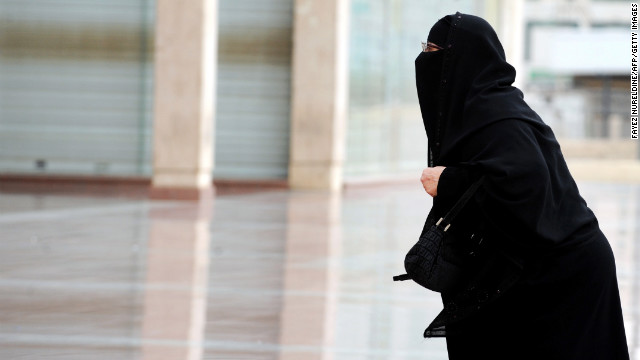 A fully veiled Saudi woman walks into a mall in Riyadh.
Women's "guardians" are notified whenever one leaves the country.
When word started spreading last week that Saudi women -- already some of the most oppressed and restricted in the world -- were being monitored electronically as they left the country, activists were quick to express their outrage.
"It's very shameful," said Manal Al-Sharif, who became an icon of female empowerment in 2011 after defying the conservative kingdom's driving ban and encouraging other Saudi women to do the same.
Al-Sharif was one of the first prominent Saudis to start tweeting about the electronic monitoring issue -- describing the shock experienced by a couple she knew after the husband received a text message alerting him his wife had left Saudi Arabia, even though they were traveling out of the country together.
What surprised and disturbed them most, Al-Sharif told CNN, was the fact that the husband had not registered with the Interior Ministry to begin receiving such notifications. -- Mohammed Jamjoom, CNN
To read more, click here.
ALSO SEE IN USA Today:
Women traveling alone are not allowed to enter the country unless they will be met at the airport by a husband, a sponsor or male relative. The Saudi Embassy advises women to dress conservatively in public; that means wearing ankle-length dresses with long sleeves and not pants. In many areas, particularly the capital, Riyadh, women are pressured to wear a full-length black covering called an abaya and to cover their heads. Women in restaurants not accompanied by a male relative often are not served, and religious police known as the Mutawwa travel in public watching for violations of social mores. Any public display of affection is considered offensive. A woman traveling with a man who is not her husband, sponsor or a male relative can be arrested. -- Jean Mann, Demand Media
To read more, click here.