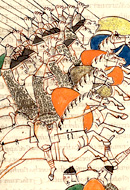 Swiss illustration of I Maccabees.
This is the 2,179th anniversary of the world's first war of national liberation. There have been many since. To a surprising extent, such wars have followed the pattern first established by the Maccabees. They, like later heads of independence movements, were leaders of a people conquered and occupied by a great empire. They fought to claim the right of national self-determination.
Resentment of foreign rule may simmer for a long time, but war is often remembered as beginning in a dramatic incident. -- By Diana Muir Appelbaum, Jewish Ideas Daily
To read more, click here.