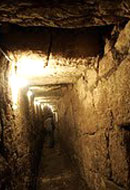 Tunnels, City of David
The Islamic Educational, Scientific, and Cultural Organization (ISESCO) was founded in 1979 by the Organization of the Islamic Conference (OIC). It has three basic goals. The first is to spread a Saudi version of Koranic education throughout the Islamic world. The second is to publicize Islam to the non-Islamic world, both positively by touting Islamic civilization and its accomplishments—this it dubs "Dialogue among Civilizations"—and negatively, by protesting what it calls the "anti-Islamic campaign."
he third goal is to oppose the "Judaization of Al-Quds"—i.e., Jerusalem. To that end, a recent ISESCO meeting in Amman has bitterly attacked archeological projects in the Holy City conducted by "the Israeli occupation authorities...in full breach of the relevant international laws and conventions."
-- Alex Joffe, Jewish Ideas Daily
To read the complete article, click here.